Transforming Tomorrow… Today
OUR MISSION:  Metro Community Ministries, Inc. is community based, nonprofit organization committed to building the capacity of community, youth and family structures to acquired success.  Through a focused provision of support and developmental efforts, Metro will utilize education, employment, foundational development and creative enhancements to assist communities to overcome adversities in meeting tomorrow's goals today.
OUR VISION: Communities that reflect strength, opportunity and prosperity; creating a unified pathway to success.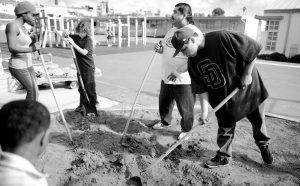 There are 50 million people in the USA who are living in poverty.  To get out of poverty, people need jobs and a career path that affords them the opportunity to build a productive and self-sufficient life.
One of the other critical issues that move people out of poverty is education. The more education, the less likely people will end up in poverty. Finding the right educational path, whether it is in college or in technical career training, is essential.
We want to begin by doubling the amount of people we trained and served last year. And we want to do it by partnering with grassroots and community-based organizations nationwide and by expanding our network of community partnerships.
Join us as we help to end the cycle of poverty in individuals, families and communities.